Our Notary Public:
Issues notarial certificates
Verification of signatures and documents
Administering oaths / affirmations
For details please refer to "Our Notarial Services"
Apostille Service arrangements at the Hong Kong High Court under Apostille Convention (Hague Apostille Convention 1961)
Legalization & authentication at various embassies in the Hong Kong SAR
Notarization for Individuals
For individual verification:
identity, birth certificates, passports, address proof, marriage certificates or decree absolute (for divorce)
academic and professional qualifications;
Witnessing execution of power of attorneys, commercial agreements, last wills and government forms
Administering oaths and affirmations
Notarization for Corporates
For companies:
Verifying company documents including board/shareholders' resolutions, certificates of incorporation, BR certificates, annual returns and articles of association
Preparing legal opinion on company structures and existence, and due execution of company documents
Please fill in the information here and we will get back to you ASAP
We are a professional and experienced team who provides notarial services for local and international clients.  Our notary public, Mr. Nicky Tse is appointed by the Chief Judge of the Hong Kong High Court and specialized in litigation.  Our team is here and ready to answer your enquiry and provide you with actionable solutions.
We can refer you to trusted and able China Appointed Attesting Officers for assistance.  Please feel free to contact us if you have any enquiry.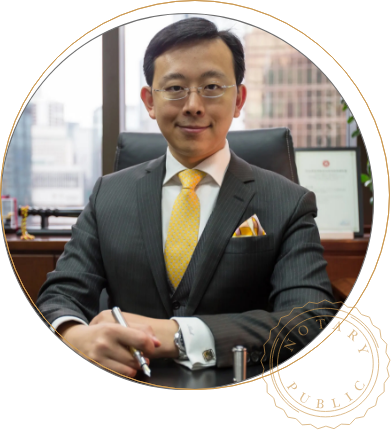 Nicky Tse is a solicitor and notary public in Hong Kong specializing in litigation, ADR and corporate and commercial matters.
For contentious matters, Nicky works regularly with a team of Counsel and Senior Counsel with various specialties in arbitration tribunals and all levels of Courts.  During his past decade of practice, Nicky handled shareholders and boardroom disputes, insolvency, probate, trust, matrimonial, medical-related, and very urgent Court applications for interlocutory relief including injunctions, appointment of provisional liquidators and NPOs.
For commercial matters, Nicky regularly advises cross-border corporations ranging from aviation, international trade, F&B and entertainment industries, including M&A deals, restructuring, banking and other company matters.
Nicky achieved Black Belt 5th dan in Taekwondo and practiced ISSF air-pistol and air-rifle shooting.
Please see Nicky's LinkedIn webpage for highlighted cases handled by Nicky and his team.
Mr. Ho
感謝謝律師和各位參與這案件的同事,團隊有把聯絡工作做好以及清楚解釋處理案件的過程。
Annie Hung
謝律師在處理我的公證急件時服務態度專業,回應迅速,價錢亦合理,更主動協助更新文件表格,非常可靠!Thank you for the service!
Sung Hung Mui
本人的案件略為複雜,過程中遇到不少困難,感謝 Nicky 的專業法律觀點及對案情的認識,以及熱誠,最後贏得完美的結果。十分感謝你與助手的協助。
Eupheme. L
Professional and responsive
Heavenmtv
provide insightful legal advice and very informative, highly recommended
Elisa Wan
quick response and reasonable price
Jane Wong
Nicky TSE is very efficient and professional in notarising my documents, very easy to communicate and understand my requests quickly then executed. I would recommend it to my friends
AJ O
Very responsive and effective. Provided notary services in a timely and friendly fashion. Highly recommend.
Hussain Tahir
"Mr Nicky Tse and his team has been very helpful on handling my case, fees are reasonable and I would recommend to my friends."
Susan Chiu
Nicky has been patient and professional in sorting out my case. Charges are very reasonable too. Highly recommended.